Congratulations you got one of our custom LED Xmas Trees!
You will have all components you need in your bag.
Some hints ;-)
Check for the large flag in the LEDs before place them. This is the flat spot side (cathode)

Solder Q1, Q2 and Q3 carefully (small pads)

Press the Christmas Tree PCB as good as possible into the stand to be able to make a good soldering connection.

The micro USB connector fits not perfectly. Place first the two small pins and move then the connector into the correct position.

Check the assembled board before connect to a USB power supply for any short circuit.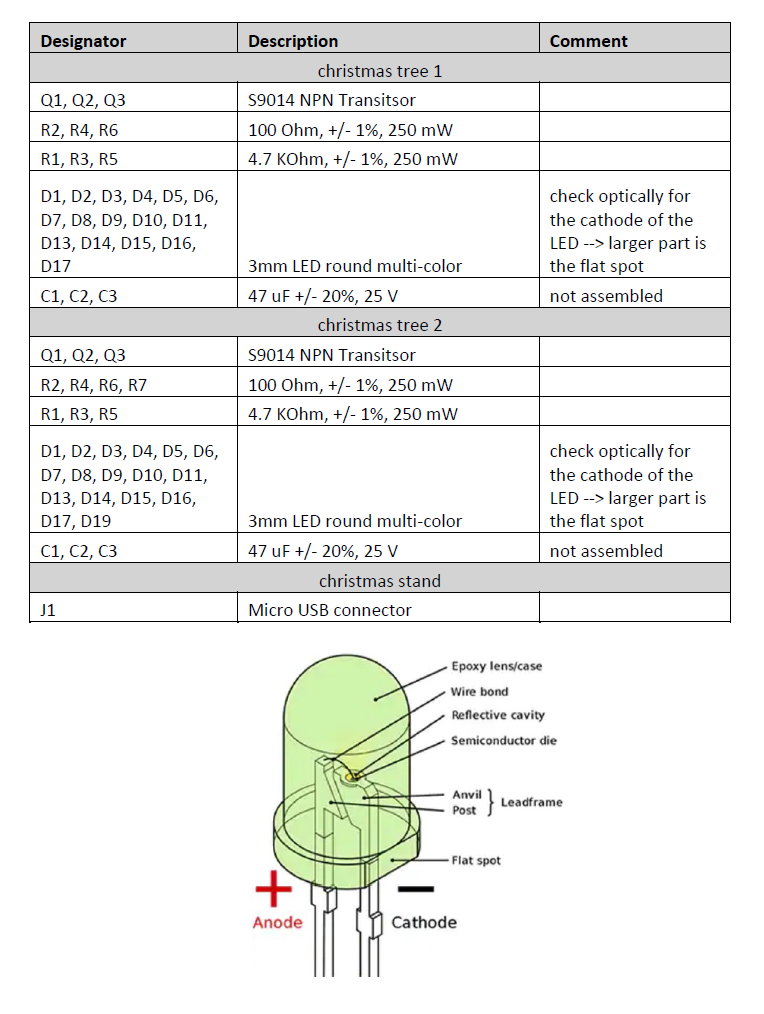 If you need help with the color coding of the resistors check here

Now is your turn to shine and show your soldering skills!
Limitation of Liabilities
a) NETTIMELOGIC MAKES NO WARRANTIES FOR THE HARDWARE PRODUCT. THE HARDWARE PRODUCT IS PROVIDED "AS IS," WITHOUT WARRANTIES OR CONDITIONS OF ANY KIND, TO THE FURTHEST EXTENT PERMITTED BY LAW.
B) IN ANY ACTION UNDER OR RELATED TO THIS AGREEMENT, NETTIMELOGIC SHALL NOT BE LIABLE TO CUSTOMER FOR ANY OF THE FOLLOWING, EVEN IF INFORMED OF THEIR POSSIBILITY, WHETHER ARISING IN CONTRACT, TORT (INCLUDING NEGLIGENCE) OR OTHERWISE: 1) THIRD-PARTY CLAIMS FOR DAMAGES; 2) LOSS OF, OR DAMAGE TO, DATA; 3) SPECIAL, INCIDENTAL, INDIRECT, PUNITIVE OR CONSEQUENTIAL DAMAGES; OR 4) LOSS OF PROFITS, BUSINESS, REVENUE, GOODWILL OR ANTICIPATED SAVINGS. AS SOME STATES OR JURISDICTIONS DO NOT ALLOW THE EXCLUSION OR LIMITATION OF SOME DAMAGES, THE ABOVE EXCLUSION OR LIMITATION MAY NOT APPLY TO THIS AGREEMENT. EXCEPT FOR BODILY INJURY (INCLUDING DEATH) AND DAMAGE TO REAL PROPERTY OR TANGIBLE PERSONAL PROPERTY. IN THE EVENT NETTIMELOGIC IS DETERMINED BE LIABLE TO CUSTOMER, ITS LIABILITY SHALL BE LIMITED TO THE LESSER OF A); THE AMOUNT OF ACTUAL DIRECT DAMAGES SUFFERED BY CUSTOMER; OR B) THE AMOUNT CUSTOMER PAID NETTIMELOGIC FOR THE HARDWARE PRODUCT.