The PTP Transparent Clock (TC) from NetTimeLogic is a fully scalable implementation of a Peer-To-Peer, One-Step Transparent Clock according to IEEE1588. It contains a Peer-Delay message processors which answers and measures the Peer-Delay to its neighbors and an On-The-Fly-Modifier unit which corrects the residence time of PTP Event-Messages. Each port is individual and only some common counter is shared between the ports. The number of ports can be freely chosen according to the requirements.
All datasets and algorithms are implemented completely in HW.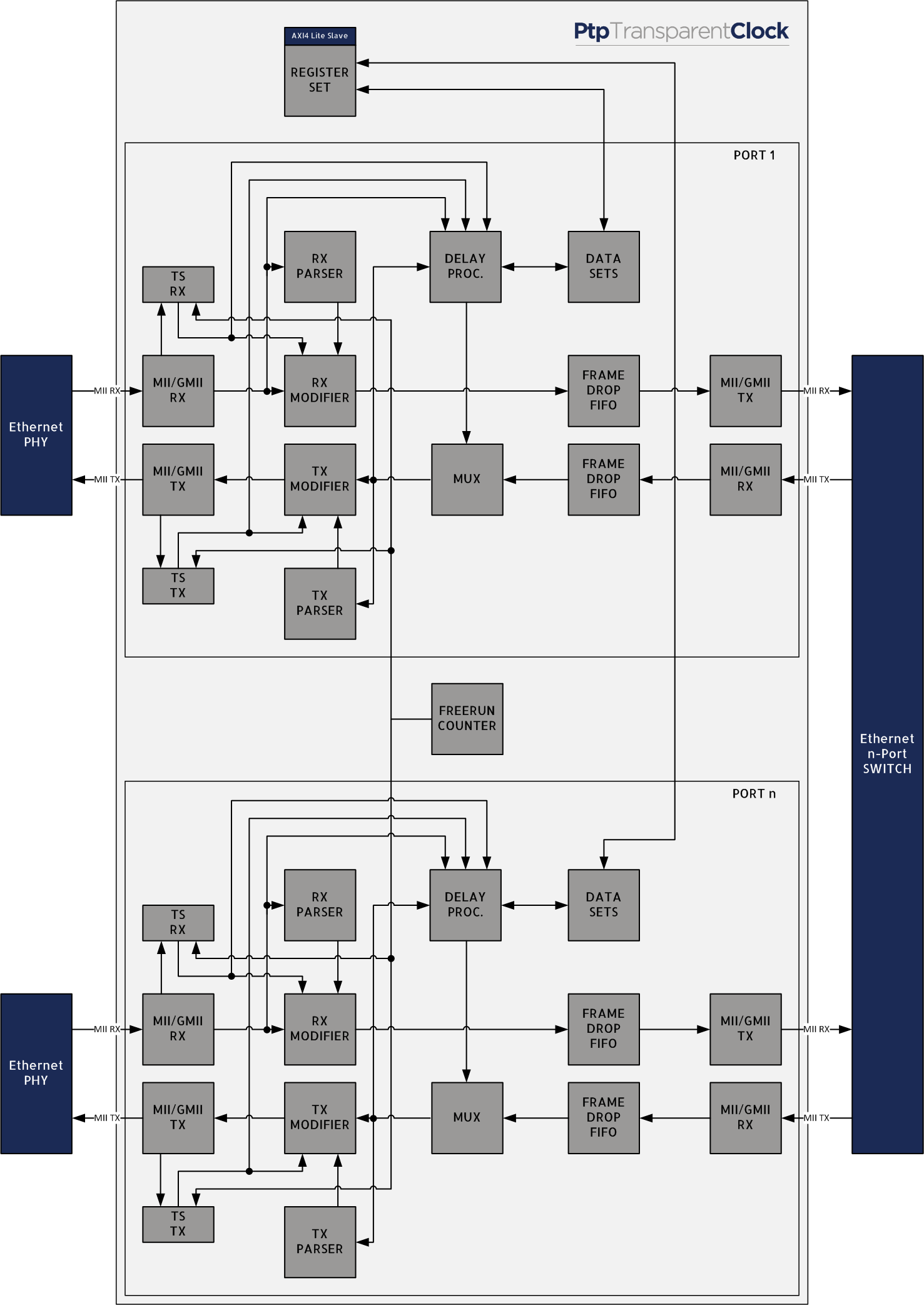 PTP Transparent Clock according to IEEE1588-2008
Intercepts path between MAC and PHY
Support for n-Ports
Support for Default Profile: Layer 2 (Ethernet) and Layer 3 (Ip) support
Support for Power Profile: C37.238-2011 including VLAN support
Support for Utility Profile: including HSR and PRP tag handling
One Step support
Peer to Peer (P2P) delay measurement
Full line speed
AXI4 Light register set or static configuration
Datasets according to IEEE1588
MII/GMII/RGMII Interface support (optional AXI4 stream for interconnection to 3rd party cores)
Optional Management Message support
Timestamp resolution with 50 MHz system clock: 10ns
There are different licensing possibilities. All prices are in US Dollars without VAT, all prices are one-time fees, no royalties apply:
Project Source Code: 6300$
Site Source Code: 11400$
All prices are non-binding estimates – please use the contact form for definitive pricing and lead-time information.